We initially recognized Gigi Levangie from strolling down the beach of the Malibu Colony with her spiky-haired then-husband, producer Brian Grazer (Apollo 13, A Beautiful Mind).
Gigi's name came up again when she scribed the Julia Roberts film Step-mom, based in part on her own experience marrying into a family with children.
She and Brian eventually had some of their own and one day not long after … She came up with the idea for The Starter Wife. An extremely well-used phrase in Los Angeles to denote the stepping stone of a marriage every good master-of-the-universe will take.
USA optioned her book for a TV mini series and Debra Messing signed on to star.
Debra's brother, a money manager named Brett Messing, was a sometimes-resident in the Colony meaning that he sometimes rented a house there; but after all, who doesn't rent, or own, or squat in the case of Wells Fargo loan inspectors, at one point or another in  L.A.? It's practically tradition.
The premiere of The Starter Wife was held at Pacific Design Center on May 22, 2007. Brian and Gigi were already in the midst of dissolving what had mostly been a loving 17 year marriage. He made a supportive appearance; up until this point he was the bigger name.
Bidding adieu to Tom Hanks, John Mcenroe, Neil Diamond, and other deck-sharing neighbors from the Bu, Gigi moved to Brentwood with their two sons Thomas and Patrick Grazer whom she calls "Thug the Elder" and "The Younger" like Dutch master painters.
We met Gigi for the first time in person at her book launch over the summer at the Soho House … A-list photog (and friend of the Truffle) Stefanie Keenan had come to shoot candids of Gigi in hair and make-up just before the event.
Soon she was joined by co-host TV host and correspondent Thea Andrews, Vanity Fair's Krista Smith, Gigi's publicist Lara Shriftman, BH housewife Kyle Richards, George Kotsiopoulos, producer Suzanne Todd, jeweler Loree Rodkin, manager John Carrabino,  Frankie Levangie (Gigi's nephew) and Emile Hirsch (who star together in his next film), talent manager Joanne Horowitz who was the originally celebrity wrangler for Studio 54 in New York, and her very good friend Taylor Stine whose father who use to own the club with Steve Rubel, Mimi Jay James, Brooke Davenport, Matt Donnelly from the L.A. Times, and more.
Gigi and us got to talking by the bar; she watched the hors d'ourves pass by grumbling  "Lips or lobster roll, lips or lobster roll??" The lobster roll eventually won out midway through our cocktails and we discussed our mutual friends from Malibu.
This was our kind of girl. Not only was she a cheerleader in  high school — Hollywood High to be exact — she was voted best legs in her class yearbook. She then attended UCLA majoring in Political Science "and clubbing" as she put it. We were in love.
She had lived at #42 in the Colony, which for those familiar with the beach-front alley  is on the South end by the public beach and Neil Diamond's house. We would mostly frequent #100 or #89 as we regaled.
And yes … of course we knew all about Jerry Perenchio's 9-hole golf course by the guard gate and the $100,000 4th-of-July fireworks show the neighbors put on every year, and do Tom & Rita every come out anymore, and did Jim Carrey ever sell his house? Is it still on the market?
The conversation turned to someone we all knew well; a once homeless man adopted by the Malibu Colony named Chester (who also goes by "Night"). Decades ago he had been arrested for sleeping on the beach a few times in a row and then one of the families offered him a home. Since then he has been the proud Ambassador of the Colony especially during the holiday parties when parking became tight and he would settled disputes and move around cones or dog-sit or  house-sit or drag a dead seal off the beach. He is the fixer, always in flip flops, rather stunning and handsome, and everyone agrees is a wonderful guy.
Chester was depicted in Gigi's book The Starter Wife. The main character winds up falling for a hot homeless man who lives in a tent behind the Malibu Colony which becomes their love nest. Briefly.
GOD willing, she will reprise him in her next film — perhaps based on her latest work: follow-up book The After Wife.
She smiled through our Caliche Rum drinks; she liked that idea.
The After Wife takes a bit of a turn from the The Starter Wife. We have moved on from beach houses and prozac to deeper material; our protagonist faces the worst imaginable loss of love and the catchy title hints at the rest (the reference for those reading-and-drinking is 'the after life').
###
A DAY IN THE LIFE OF GIGI LEVANGIE:
GL: Every morning I have breakfast with my boys. I have a ritual of roasting  almonds every morning. It takes 20 minutes, and it's my kids' favorite snack.
[Recipe: Sprinkled olive oil and sea salt over almonds, roast at 350 degrees for 15-20 minutes.]
GL: I walk with them to school because it's close. I then head to Cafe Luxxe in Brentwood to work on some writing, or a place called The Office that is for office-less authors like myself. Sometimes, I'll go shopping … I like Elyse Walker in Pacific Palisades; Jackie Caro there puts things aside for me.
[Including the Alexander McQueen that Gigi is wearing tonight.]
GL: I may then get coffee with friends. I recently went with a girlfriend for coffees and the barrista wrote "MILF" on our cups. We thanked him and were completely confused offering M.I.L.F. = Moca Iced Low-fat Frappuccino.
[C'est la vie.]
Here are a few more of Gigi's could-be errands:
Denis De Souza at Andy Lecompte for color (Gigi gets Ombré).
Andy Lecompte himself for cut.
Carrie Ann and her sister Christine Nall at AVA MD for all thing dermatological (Gigi is a fan of Pelleve as opposed to Botox).
Gigi's may visit her psychic Michelle Whitedove (who also gave readings at the book launch, was a consultant on

The After Wife

).
Then it's, Mahja Yoga at some point. I love Ish, Tom, Steve, and Stephanie.
GL: Then back for more writing, and pick up kids. I make dinner every night depending on their ever-changing baseball schedule. We sometimes go to Clipper's games; we have court-seats.
[Why not the Lakers, we asked?]
GL: I like an underdog. We also have Dodger seats behind first base.
[Not too shabby.]
GL: On the weekends, we'll go to the Riviera Country Club. The boys take tennis from Jean-Christophe , a handsome french tennis player or Buster McCoy who teaches all the movie stars. We get turkey burgers and old fashion shakes in the coffee shop. I love the old Hollywood feeling you get from being there and knowing every actor imaginable has eaten at that counter. You can just imagine Guy Mcelwaine would be there every night telling old Hollywood stories.
[So, what's next we wondered? Can't stop now... Gigi had been in T.V. since college, opting out of law school to write TV shows.]
GL: I'd like to live in a different country every 3 years and write a book in each city … St. Petersburg … Maybe Madrid or Paris.
[A Starter Wife for every global city? Befriend the local socialites and adapt the mold?]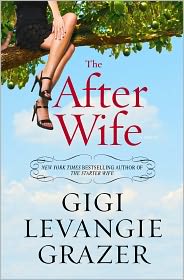 GL: I am working on a couple projects … Sister Effect which is about two sisters who hate each other but find that they need each other, and an untitled book of essays written throughout the years …
[We shall stand-by.]
The After Wife is Truffle-Approved and can be purchased here: www.theafterwife.com
Follow Gigi on Twitter: @GigiLevangie